Does your body resist ideal contours despite a healthy diet and regular exercise? Do you suffer from stubborn cellulite which leaves areas of your skin dimpled and sagging? If so, then you should check out VelaShape! It's the only FDA-cleared body contouring procedure that effectively and safely contours, shapes, and slims the body by reducing cellulite and firming problem areas—and all in as little as four treatments.
It Seems Like Magic…but It's Not!
VelaShape uses four different components – radiofrequency, infrared light, vacuum suction, and mechanical massage. The infrared light and radiofrequency energies allow VelaShape to precisely heat dermal and hypodermal tissue in the treatment area. This heating effect boosts fat cell metabolism and reduces the number and size of fat cells, thereby eliminating cellulite. At the same time, VelaShape's mechanical massage rollers gently knead the area, increasing circulation, encouraging lymphatic drainage and eliminating fat cell byproducts and toxins. Finally, the vacuum suction technology smooths dimples by stretching fibrous bands in the epidermis, reducing the appearance of cellulite. The end result of these high-tech applications is a significant reduction in body circumference and cellulite—and, best of all, fantastically smooth, firm skin.
Make VelaShape Work for You
VelaShape is effective on all skin types and tones. VelaShape procedures target cellulite, smooth and tone body tissues and tighten skin.
But some people will respond to VelaShape better than others. The best candidate has a Body Mass Index of less than 30 and falls under cellulite classification levels one and two. What does this mean?
Stage one
Cellulite shows no dimpling while the patient is standing or lying down, but a pinch test reveals an orange peel appearance.
Stage two
Cellulite indicates orange peel dimpling that appears spontaneously when standing up but not when lying down.
If you don't meet this criteria, don't despair. You can still benefit from VelaShape — but the results will be less dramatic. Then there are those people who because of unique medical conditions cannot undertake VelaShape treatments. This includes people with pacemakers or metal implants in the treatment area. Women who have given birth must wait three to six months and must have discontinued nursing before undergoing VelaShape.
Maximize Your Results with Diet and Exercise
VelaShape's results will last longer if you follow a balanced diet and exercise regularly. This means:
Drinking at least eight glasses of water a day.
Refraining from eating refined sugars and carbohydrates. This means sweets, white bread, and white pasta.
Engaging in cardiovascular exercise such as walking or biking at least 30 minutes a day.
Adding strength-developing exercises such as yoga or weight lifting at least twice a week.
Eating nutrient-dense foods such as whole grains, lean proteins, fruits, and vegetables.
Limiting salt, caffeine, and alcohol.
Consuming fewer snack foods such as cookies, donuts, pies, cakes, potato chips, etc.
Eating in moderation. If you are not hungry, don't eat.
Making it convenient to be active. Choose activities that are readily accessible, such as gardening, walking, or jogging.
Proper diet and exercise are not only the mainstays for a healthy lifestyle, but they are also essential for maintaining your VelaShape results. Many Americans turn to costly fad diets and exercise programs that fail to provide weight loss and a healthy lifestyle. But the basic tenets of gradual weight loss and good health include developing healthy eating habits and increasing daily physical activity. Consult with a doctor before undergoing any weight loss plan, and choose a plan that feels best for you!
To reap all of VelaShape's benefits, you should undergo six treatments scheduled at one-week intervals. After the initial series of treatments, most medical professionals recommend monthly maintenance treatments for the first three months, followed by regular treatments every three months thereafter.
Let LaserAway Help You Look Your Best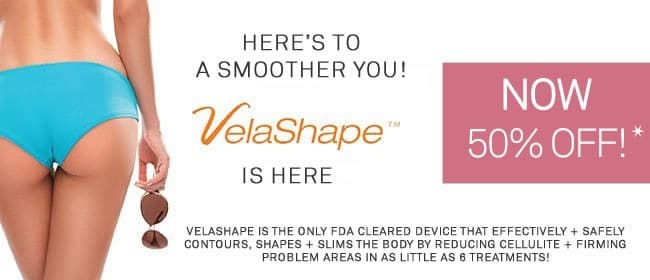 Only the best medical spas offer VelaShape. That's why of all national skincare providers LaserAway offers the broadest service options, including VelaShape. At LaserAway you can be sure you'll receive the best treatment available. To meet the needs of discriminating clients, LaserAway staffs its clinics with only the most experienced medical professionals certified in administering laser and other dermatological procedures.
We at LaserAway believe in using only the most cutting-edge laser technology and techniques to make your medical spa experience enjoyable. So don't hesitate to contact us. You've got nothing to lose but inches. If you would like to learn more about LaserAway's medical spa services or schedule a free, no-obligation consultation, please email us at LaserAway.com or call us at (888) 965-2737.