Thermage, VelaShape, and CoolSculpting — they're all noninvasive body contouring procedures that tighten skin, reduce fat, and dramatically reshape your body. Yet which one you choose depends on your needs. Here's how you can settle on the body contouring treatment that's right for you.
VelaShape: Ideal for Cellulite and Circumferential Reduction
FDA–approved, noninvasive VelaShape effectively and safely contours, shapes, and slims your body by reducing cellulite and firming problem areas.
VelaShape's infrared technology stimulates fat cell metabolism and reduces fat cell number and size by heating dermal and hypodermal tissue at a treatment site. Its vacuum suction smooths away dimples by stretching fibrous bands in the epidermis. And its mechanical rollers gently knead the area in order to increase circulation. This encourages lymphatic drainage and expulsion of harmful fat cell byproducts and toxins. The result is a significant reduction in cellulite dimpling and thigh circumference, as well as smoother, firmer skin.
During your first VelaShape session you'll be asked to lie down on a table. Your medical provider will apply a lotion-like spray to the area to be treated before placing the VelaShape machine on your skin. The sensation you'll experience is similar to a deep-tissue massage that slowly begins to heat up. Slight pressure will then be applied to the area as your skin is massaged. Depending on the area being treated, a VelaShape session lasts 20 to 40 minutes. Most clients need six sessions to see significant results.
VelaShape is so effective that people in clinical trials experienced an average of half an inch to three inches of circumferential reduction in treated areas after a series of four treatments. And their cellulite was reduced by over 60%. A similar clinical study showed that 85% of patients saw their thighs shrink up to three inches.
*Results and patient experience may vary.
CoolSculpting: Ideal for Stubborn Fat Deposits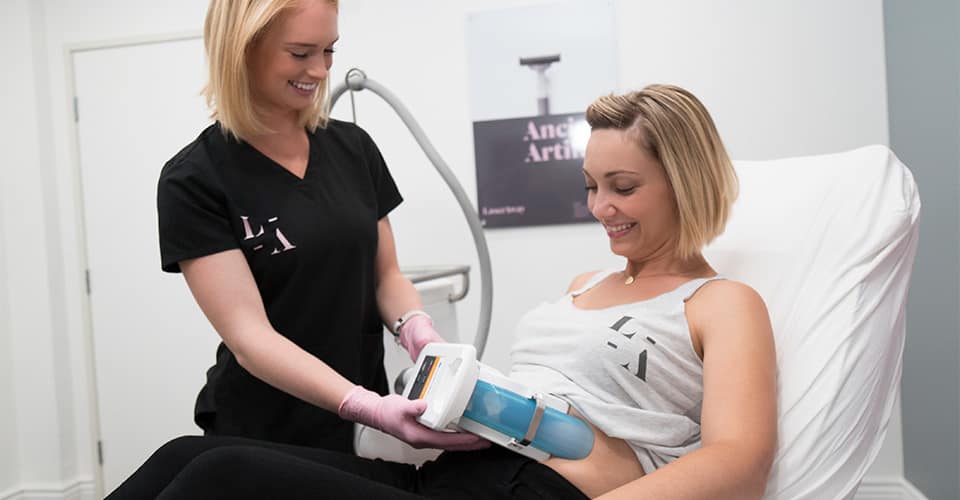 If you have stubborn areas of fat that refuse to respond to diet and exercise alone, then CoolSculpting is ideal for you. It is the only FDA–cleared nonsurgical reduction treatment that uses controlled cooling to sculpt challenging areas virtually anywhere on your body. CoolSculpting is highly effective on your thighs, waist, buttocks, and stomach.
CoolSculpting cools and crystallizes fat cells, which freeze at a higher temperature than surrounding tissue. The fat cells die, and your body eliminates them over time. Once they're gone, they're gone forever; and the result is a trimmer, more toned you. If you do happen to gain weight later on, you'll do so evenly.
Before your first CoolSculpting session, your medical professional will assess your specific goals, your unique body, and your needs. How long your session will last depends on the number of areas you want to be treated. You may need additional sessions if you want a few different areas treated.
During the procedure, a gel pad and applicator will be placed on the targeted area. You'll most likely feel a deep cold at first, but this ends as the area becomes numb. You may also feel some tugging. This is because a CoolSculpting device uses a vacuum to draw fatty tissue into the applicator cup.
You'll realize significant results in anywhere from three weeks to two months. Your body will continue to flush fat cells for four to six months after treatment. Remember that CoolSculpting is FDA–cleared to eliminate fat only in the abdomen, side, inner thigh, outer thigh, and chin.
The best part of CoolSculpting is that you don't have to adopt new exercise or diet habits. But your results will last longer if you follow a balanced diet and exercise regularly.
*Results and patient experience may vary.
Thermage: Ideal for Loose Skin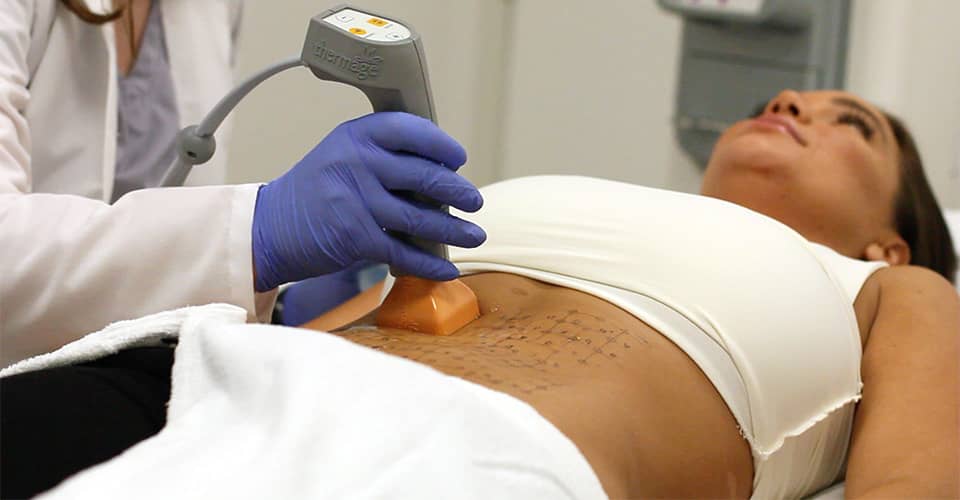 A noninvasive procedure that dramatically tightens skin after only one treatment, Thermage works wonders practically anywhere.
Thermage tightens skin from the inside out. Its radiofrequency technology produces currents that causes collagen under your skin to contract and gradually reform. This is why most clients experience dramatic tightening and smoothing of their skin over the six months following treatment. Since the outer layers of the skin are unaffected, there is almost no recovery time involved. And results from a single Thermage treatment tend to last up to several years.
Immediately prior to your Thermage procedure, you'll receive a local anesthetic and oral medication to ease any discomfort. During the actual Thermage procedure, clients experience an alternation of cooling and heating sensations as the device penetrates the skin's deeper layers. The heat intensity is monitored to maintain comfort levels. With each brief radiofrequency pulse collagen in the deeper layers of the dermis is heated just enough to trigger substantial remodeling and regrowth. The skin's surface is also simultaneously cooled using an integrated cooling system to prevent damage. A Thermage procedure can take anywhere from 45 minutes to 1 1/2 hours, depending on the size of the area.
Though some clients may notice immediate results after a single treatment, the most dramatic results appear in the two to six months following treatment.
*Results and patient experience may vary.
The Thermage Choice
Thermage tightens loose skin, whereas CoolSculpting and VelaShape reshape and sculpt your body. Though both Thermage and VelaShape tighten skin, Thermage offers longer-lasting, more noticeable results. And unlike VelaShape, which is specifically designed for your thighs, hips, and waist, Thermage can be virtually used anywhere you have loose skin. In fact, it's often used on the face as an alternative to a facelift.
Bottom line: You should choose Thermage over VelaShape and CoolSculpting if you're looking to dramatically tighten loose skin on your body, and you'd like to achieve results that last a few years. That said, most people mix and match treatments, depending on their needs.
*Results and patient experience may vary.
LaserAway for the Best in Body Contouring
Getting the figure you've always wanted is just a LaserAway. We're your go-to source for VelaShape, Thermage, and CoolSculpting. Committed to providing the best customer service, we use only cutting-edge technology and techniques. And our highly trained staff is experienced and certified in laser and other procedures. They strive to make sure your visit is enjoyable, comfortable, and satisfying.
Want to learn more about body contouring? Schedule a free, no-obligation consultation today by emailing us at LaserAway.com or calling us at (888) 965-2737.
*Results and patient experience may vary.