It's time for every man to put his best face forward. After all, the fashion season is just around the corner. Most men neglect to groom, but they should realize how much just a little bit of grooming can enhance their appearance. And who wouldn't want a confidence boost?
You have to make sure that you're using the right kind of products for your hair and skin type.
The number one reason men don't put a lot of effort into grooming? Because they claim that they're not getting results from their grooming routines. Let's think about this for a minute. You can't really expect much out of your grooming routine if you just lather up with any old shampoo and soap. You have to make sure that you're using the right kind of products for your hair and skin type. Any woman will tell you that.
Personalize Your Skincare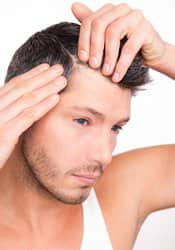 AllAfrica.com gives us the lowdown on skincare for men. A man's skin tends to be thicker, oilier and more resilient—but it still needs proper care with the right kind of skincare products. How do you discover what kind of skin type you have? The best way is to have a professional facial done. You'll be able to ask the therapist questions about your skin and what kind of products you need. Since skin changes and reacts to treatments frequently, you'll need to visit your therapist every four to six weeks.
Once you have picked out products, and have set up a skincare regime, you should exfoliate once a week. This helps to remove dead skin cells and will make your skin appear brighter. You should also apply a weekly deep cleansing facial mask to refine your pores and remove blackheads.
Want more information? Here are some other essential grooming tips:
Many men throw away their blades thinking they're dull when they're really just clogged with grease, grime, and stubble. Keeping blades free of gunk will preserve their life. Want something more convenient? Try the new vacuum beard and grooming kits that suck up clippings as you shave, storing them in an easy-to-empty compartment.
 Combs, hairbrushes, nail brushes, tweezers, and mustache combs should all be cleaned weekly. The best way to do this is to simply rinse them in some sterilizing fluid or soap.
 This isn't the 70s. Try to keep your chest and back hair under control. Trimming with an electronic device, laser hair removal, and waxing are most effective. Nose and ear hair is another thing to avoid. Pay attention to this and keep it trim.
 Regular visits to the barber help you to maintain a style suited to your look. You can also sculpt your facial hair, adding definition to your face. Since women love facial hair, visit your barber every two weeks to maintain the shape.
 Learn how to shave properly. Avoid shaving bumps by not pressing too hard against your skin with the razor and avoid using hot water. For a super-smooth, close shave, try using shaving oil under your shaving gel. After shaving, apply aloe vera gel as a soothing balm.
 Use cologne. The right fragrance can send a message that you value individuality, exclusivity, and craftsmanship and that you are a gentleman and a connoisseur.
Interested in giving your grooming regime a makeover? Then visit your local LaserAway. We're proud to offer the most medical spa service options of any national skincare provider. We hire only the most highly trained staff experienced and certified in administering laser and other dermatological procedures. What's more, we use only the most innovative techniques and cutting-edge laser technology.
We aim to make your medical spa experience comfortable, enjoyable and satisfying. Schedule a free, no-obligation consultation today by emailing Laseraway.com or calling the staff at LaserAway at (888) 965-2737. We look forward to helping you stay hair-free.