If you're like most women, you've probably spent years baking in the sun when you were younger. Remember all those times you used tanning oil instead of sunblock? Unfortunately, sun damage isn't skin deep. UV radiation alters the actual DNA of your skin cells, causing lines, wrinkles, discoloration, and even cancer.
A Deadly Pastime
Sun exposure causes most of the skin changes that we think of as a normal part of aging. Over time, the sun's ultraviolet (UV) light damages the fibers in the skin called elastin. When these fibers break down, the skin begins to sag, stretch, and lose its ability to go back to place after stretching. The skin also bruises and tears more easily, taking longer to heal. So while sun damage to the skin may not be apparent when you're young, it will definitely show later in life.
What are the three main ways the sun destroys your skin?
Wrinkles
The sun's rays make skin look old and wrinkled years before it should. More than 80% of the signs of skin aging in adults are the result of the tans they had as teens before the age of 18. That's because over time the sun's ultraviolet light damages the fibers in the skin called elastin. When these fibers break down, the skin begins to sag and stretch, and wrinkles form as a result.
Uneven Skin Tone
Too much sun also causes irregular coloring or pigmentation of the skin. Some areas of the skin appear darker, while others look lighter. The sun can also cause permanent changes in small blood vessels, giving your skin a reddish appearance. Melasma can also form from excessive sun exposure, which results in tan or brown patches on the cheeks, nose, forehead, and chin.
Age Spots & Freckles
Age spots, which consist of brown or gray spots, are the result of sun exposure, which is why they tend to appear on areas that get a lot of sun, such as the face, hands, and chest. Freckles are pigmented spots on the skin and are usually found on sun-exposed areas of the body. They're more noticeable in the summer, especially among fair-skinned people and those with light or red hair.
The Big C
In addition to these three things, excessive sun exposure can also cause skin cancer. Skin cancer is an abnormal growth of skin cells that most often develops on areas of the skin exposed to the sun's rays. Skin cancer affects people of all colors and races, although those with light skin who burn easily have a higher risk. You can protect yourself against skin cancer by limiting your exposure to the sun, and always wearing a high SPF sunblock when you're out and about.
If you already have sun damaged skin, don't worry. Here are two revolutionary, non-invasive medspa treatments that can reverse sun damage and decrease your risk of getting skin cancer:
IPL Photo Facials
 IPL photo facials work by using a broad-spectrum light source that penetrates multiple layers of skin. This type of photo facial primarily targets the lower layers of skin (dermis) while leaving the top layers of skin (epidermis) unaffected. The heat generated from the light promotes healing of the skin within, treating a number of different dermatological issues. IPL photo facials even out skin texture and reverse sun damage, including precancerous cells.
Clear + Brilliant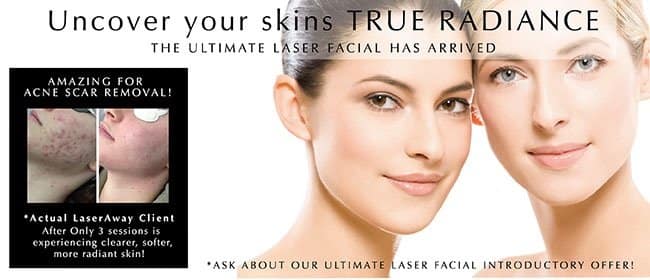 Clear + Brilliant rejuvenates sun-damaged skin from the inside out using a non-invasive dioxide laser. Its non-invasive laser technology gently resurfaces the top layer of the dermis by creating millions of microscopic treatment zones in the skin. The result? Smoother, softer and youthful-looking skin – and most importantly, reduced sun damage and precancerous growths.
Let LaserAway Rejuvenate Your Sun Damaged Skin
Got a sunburn? Then come to LaserAway. LaserAway is proud to offer the most medical spa service options of any national skincare provider. LaserAway hires only the most highly trained staff experienced and certified in administering laser and other dermatological procedures. What's more, LaserAway uses only innovative techniques and cutting-edge laser technology. LaserAway aims to make your medical spa experience comfortable, enjoyable and satisfying. Want to learn more about Clear + Brilliant? IPL photo facials? Then schedule a free, no-obligation consultation today by emailing LaserAway.com or calling the staff at LaserAway at (888) 965-2737.