Get the Most from Your Thermage Treatments
2015 is here! What resolutions have you made? Do you want to regain that youthful glow? Then we have a treatment that will likely work for you.
Thermage–there's no doubt that it truly turns back the clock! While aging affects us all, it doesn't have to spoil your looks. Medspa treatments such as Thermage let you recapture youth by revitalizing lackluster skin. Thermage is a great solution for busy people who desire glowing skin without the hassle that often accompanies more invasive beauty treatments.
Look Your Best This Year
How does Thermage work its magic? Thermage works from the inside out. It transfers heat to the epidermis, which not only encourages collagen production but also tightens existing collagen. Thermage effects this partly through radiofrequency technology, which produces electrical currents that cause collagen within the skin to contract and gradually reform. This is why most individuals experience dramatic tightening and smoothing of the skin over the six months following treatment. Since the outer layers of the skin are unaffected, there is almost no recovery time involved. The most amazing thing of all? Results from a single Thermage treatment tend to last up to ten years.
Thermage works wonders on most people. The best candidates for Thermage are people with mild-to-moderate skin laxity who don't require modification of muscle or fat underlying the skin. Ideally, they have only modest sun damage and don't smoke.
Unfortunately, Thermage has difficulty producing superior results on people with thick layers of underlying fat or excessively loose muscles. This is because Thermage can't remove fat deposits or tighten muscles. Thermage also can't reverse severely drooping skin—but luckily for many patients, it can correct skin that has begun to sag with age.
Keep in mind also that though Thermage can be performed almost anywhere on the face or body where loose skin is present, it can't be applied to areas that are tattooed.
Eat Healthy to Maximize Your Results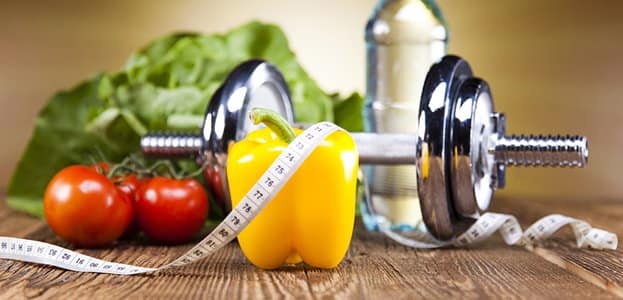 While Thermage drastically turns back the clock, it's imperative that you follow a healthy, anti-aging diet. This will ensure that you continue to look your best long after your Thermage treatment. Everyone knows that from your brain to your bones, what you eat matters. So help yourself to some age-defying foods.
What should you put on your plate?
Fill up on colorful fruits and vegetables, for one. The antioxidants in colorful vegetables and fruits, such as leafy greens, deep red tomatoes, blueberries, and carrots help stop unstable molecules from damaging healthy cells. So at each meal, fill about half your plate with fruits and vegetables. Your goal is five to nine servings a day.
Three particular antioxidants – vitamin C, zinc, and beta-carotene, help protect your vision. Dark green, leafy vegetables like spinach, kale, collard, and mustard greens, are all great sources of these vitamins. But you can also protect your skin and eyes by consuming bright-colored produce like corn, peppers, oranges, and cantaloupe.
Fill Your Plate with Colorful Fruits and Vegetables
Antioxidants like vitamin C can even help keep your skin younger-looking. In fact, one study even linked eating lots of yellow and green vegetables to fewer wrinkles. And you know what else prevents premature aging? Another powerful antioxidant called resveratrol, which is found in grapes and red wine. In addition to eating ample fruits and vegetables, you should also consume plenty of whole grains, such as whole wheat pasta, brown rice, and quinoa, healthy omega-3 packed fish, and beans and lentils.
Enough about the good stuff. Which foods should you avoid if you want to continue looking your best?
Avoid high-fat meat, high-fat dairy, and bakery treats.
Limit added sugar. Sugar can destroy your skin, and it puts you at risk of developing diabetes.
Spare the salt. Excessive salt consumption can not only lead to high blood pressure, but it can also make your eyes and face bloated and puffy. This is because it zaps all the water from your body, leading to dehydration.
If you follow a smart, anti-aging diet, your Thermage results may very well last way longer than the typical two years!
Be Fit and Look Great with LaserAway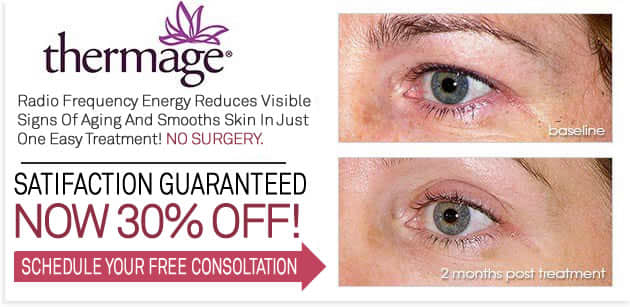 Only the best medical spas offer Thermage. That's why of all national skincare providers LaserAway offers the broadest service options, including Thermage. At LaserAway you can be sure you'll receive the best treatment available. To meet the needs of discriminating clients, LaserAway staffs its clinics with only the most experienced medical professionals certified in administering laser and other dermatological procedures.
Don't hesitate to contact us. You've got nothing to lose but your wrinkles. If you would like to learn more about LaserAway's medical spa services or schedule a free, no-obligation consultation, please email us at LaserAway.com or call us at (888) 965-2737.