June's here, and that means Father's Day is here too. What will you be giving your dad this year? A watch? Some expensive whiskey? New golf clubs?
Why not consider something out of the ordinary? Maybe it's time your dad actually pampered himself, spruced up his appearance a bit. Nothing says confidence like a well groomed man, after all. Non-surgical med spa treatments for men are more popular than ever. And they can easily fit into your dad's low maintenance regimen because most of them require little to no downtime.
Still confused about which med spa treatment might be right for your dad? It all just really depends on his personality and profession. John Hancock, a marketing consultant from Seattle, Washington, takes pride in his appearance. He knows that his job depends on maintaining a youthful image. John might benefit from some Botox, teeth whitening or laser facials to ensure that he's always putting his best face forward. On the other hand, Brian MacGee, a lifeguard from Orange County, California, might better reap the rewards of laser hair removal, so he doesn't have to worry about shaving his body hair when it comes time to hit the beach.
What are the top med spa treatments among men? Read on to discover the hottest procedures of 2014.
Botox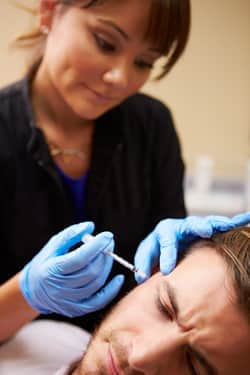 According to a new study in Cosmetic Dermatology, the number of American men getting Botox injections – a treatment which relaxes the facial muscles to minimize lines and wrinkles — has skyrocketed 258 percent over the past decade.
Why? Because men are much more open and proactive about addressing appearance-related concerns. Men who have tried Botox look better, feel better, and believe it gives them a competitive edge. There's also less of a stigma associated with cosmetic procedures nowadays. And it doesn't hurt that Botox 's results are immediate, and there's no downtime involved.
Laser Hair Removal
More and more men are choosing to undergo laser hair removal. Why? Because they're far more convenient than constantly shaving or waxing unsightly body hair.
The laser hair removal process is quite simple.  It uses laser light pulses that selectively destroy hair follicles by targeting the melanin in them. The follicle's pigment absorbs the laser's light pulse, damaging the follicle enough to significantly slow down hair regrowth. You'll need a series of three to five treatments, but after you're done, 90% of hair will never grow back.

Which areas do men like to treat? The chest, shoulders and back. If your dad is exceptionally hairy, you might want to give him the gift of permanent hair removal.
Juvéderm
Unlike Botox, which targets dynamic wrinkles, Juvéderm diminishes static wrinkles, which are caused by gravity and sun damage. Juvéderm is a dermal filler comprised of a smooth hyaluronic acid gel that, when injected into the skin, smoothes wrinkles and folds. This treatment is one of the top choices for professional men, because results are instantaneous and natural looking and don't require excessive recovery time. Unlike other dermal fillers, Juvéderm's results are also customizable, depending on your specific needs.
Laser Resurfacing
Laser resurfacing is most ideal for men with moderate to severe sun damage. And while this procedure may sound invasive, it really isn't. Non-invasive dioxide lasers such as Clear + Brilliant rejuvenate skin from the inside out by encouraging new collagen production. The treatment improves skin tone, texture, and reduces pore size. Clear + Brilliant works its magic most effectively on superficial lines around the eyes and mouth and fine lines on the cheeks. It also works brilliantly on rough, blotchy skin, superficial age spots, and acne scarring. After a series of five treatments, you'll notice that your skin is smoother, younger looking and more radiant.
Teeth Whitening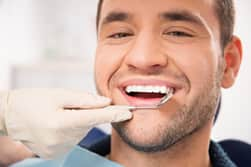 Although this may not be a med spa treatment per se, you can definitely tell someone's age by the condition of their teeth. Years of smoking and drinking coffee may have tarnished your dad's pearly whites. You can restore his confidence—and his teeth—by giving him the gift of professional teeth whitening. In as little as one treatment at a dentist's office, teeth can be whitened up to seven shades. Now that's something worth smiling about!
Rather than giving your dad a gift he might be expecting, why not surprise him with a gift that can spruce up his appearance and help him to feel and look years younger than he actually is? A med spa gift certificate is sure to please, especially if your dad is insecure about some of his features. You can't put a price on self-confidence, after all. And he'll be thanking you for years to come.
Want to give your dad the gift of youth this Father's Day? Then check out LaserAway. We offer several different kinds of gift certificates for the most cutting-edge med spa treatments. We believe in using only the most innovative laser technology and techniques to make your medical spa experience enjoyable. Interested in Juvederm? Botox? Clear + Brilliant? Laser hair removal? We've got them all. If you would like to learn more about LaserAway's laser hair removal services or schedule a free, no obligation consultation, please email us at LaserAway.net or call us at (888) 965-2737.