Since becoming commercially available in the mid-1990s, laser hair removal has ballooned in popularity. It's now so popular that in 2011 over 1.6 million treatments were performed in the United States alone. But this rise in popularity comes with a price — a dramatic increase in malpractice lawsuits, especially against non-medically trained practitioners. Part of the reason is because some states simply don't have laws regulating laser hair removal, and other states have really lax regulations that are easy for laser hair removal companies to skirt.
Severe burns aren't the only nasty and dangerous side effect from a botched laser hair removal procedure – skin can easily become infected and blistered, resulting in permanent scarring and nerve damage.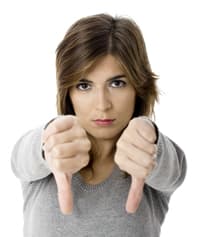 Improperly performed laser hair removal can have devastating effects. Take for example Hilde Baumeister, a sales clerk from Berlin, New Hampshire. She received a coupon through the mail for 50 percent off laser hair removal from a company she had never even heard of before. Without doing background research on the company prior to making an appointment, she underwent a series of laser hair removal treatments. Unfortunately, Hilde received severe burns because the laser technician wasn't experienced enough, and didn't take the correct precautions beforehand. Severe burns aren't the only nasty and dangerous side effect from a botched laser hair removal procedure – skin can easily become infected and blistered, resulting in permanent scarring and nerve damage.
Educate Yourself
Scary stuff, right? Well, we've got your back – here's five red flags to watch for when deciding on a laser hair removal company. If you come across any of these, run for the hills (or better yet — report the company to the Better Business Bureau).
The doctor is not on the premises.

Laser hair removal companies promise the best of both worlds – a doctor's treatment in a relaxing, spa-like setting. In actuality, only a handful of states require a doctor to be onsite, and then in only certain situations. You'll most likely notice that most laser hair removal places have an affiliated doctor whose name is displayed in the office. But this doctor probably only stops by once a month to sign some charts, and that's about it. Most of the time, they play no real role in hiring or training the staff. Even though a well-trained laser technician can generally perform laser hair removal treatments as well as a doctor, it's always better to have a doctor on the premises, in cause any complications should arise. Always make sure a doctor is always onsite when choosing a laser hair removal company.

If there is an onsite doctor, they could be a cardiologist.

Doctors from four different medical specialties have traditionally handled aesthetic treatments due to their relevant training. They typically come from plastic surgery, dermatology, otolaryngology, and ophthalmology. You should generally stick to one of these four specialties when searching for a doctor to perform laser hair removal treatments. It's not uncommon however for doctors supervising laser hair removal centers to come from unrelated specialties, such as cardiology. The American Society for Dermatologic Surgery Association has warned consumers to be wary of laser hair removal companies advertising affiliations with "board certified" doctors, because the certification could be in an unrelated field.

The laser hair removal company isn't licensed.

Here's some shocking news: most states don't require laser hair removal companies to be licensed. Instead, most states regulate the procedures themselves. Even scarier, though, a decent amount of states, like Georgia and Arizona, don't regulate laser hair removal procedures at all because they're not considered to be medical procedures. A lot of states are also cash-strapped, so they're unable to inspect laser hair removal companies frequently, until something goes awry. Be sure to check out a prospective laser hair removal company's history, rating and reviews before having procedures done there.

The laser technician might not be as qualified as you think.

Many states don't require laser technicians to be certified in laser hair removal. What's worse, some states have laxer laws that allow the overseeing physician to delegate a procedure to anyone, regardless of training or experience. Since laser hair removal procedures' results depend on the technician performing them correctly, many people end up with severe side effects, such as burns, infections, scarring and blistering. You should make sure that your laser hair removal technician is licensed, qualified and experienced, so ask questions regarding their work history and certifications.

The laser hair removal company isn't regulated.

Along the same lines of licensing, a lot of laser hair removal companies, and the procedures they perform, are largely unregulated. Why? Because a large number of states don't require any sort of regulation. In fact, there are currently no federal guidelines for laser hair removal or cosmetic laser procedures. What does this mean for you? For starters, it could spell big trouble. If you go to a laser hair removal center that isn't regulated or follows proper guidelines outlined by the American Academy of Dermatology, you could run the risk of getting serious complications. Be sure to do your research beforehand – check the prospective laser hair removal center's Better Business Bureau rating as well as their qualifications and history.
If you're looking for a good laser hair removal center, check out LaserAway. We're proud to offer the most medical spa service options of any national skincare provider. We hire only the most highly trained staff experienced and certified in administering laser and other dermatological procedures. What's more, we use only innovative techniques and cutting-edge laser technology. We aim to make your medical spa experience comfortable, enjoyable and satisfying. Schedule a free, no obligation consultation today by emailing LaserAway.net or calling the staff at LaserAway at (888) 965-2737. LaserAway looks forward to making sure you never have to shave or wax again.