LaserAway Introduced Me to Acne Scar Removal
You know how the old song goes, right? Well, we've given it a twist. We're proud to present The Twelve Days of Awesome Beauty! And today we're thankful for acne scar removal!
Tired of living with acne scars? Want to show your holiday guests how great you look? Then consider acne scar removal. Give yourself the gift of clearer, smoother skin this year! LaserAway now offers the most revolutionary acne scar removal technology available: Clear + Brilliant. This innovative procedure uses fractional lasers to treat depressed acne scars and skin discoloration. Best of all, this acne scar removal procedure is non-invasive and affordable.
The Blessing of Clear Skin
LaserAway's Clear + Brilliant procedure transforms skin from the inside out. How? Clear + Brilliant's non-invasive laser technology gently resurfaces the top layer of the dermis by creating millions of microscopic treatment zones in the skin. This not only stimulates collagen production, but also galvanizes skin to generate healthier tissue. And if you think that's impressive, Clear + Brilliant technology also uses the patented intelligent Optimal Tracking System to ensure proper contact with the skin. This means the treatment is uniformly applied to all treated areas. The result? Acne scars and discoloration seem to disappear…
Clear + Brilliant safely treats all skin types and tones. It's most ideal for people with shallow to moderately shallow acne scarring and discoloration. This is because Clear + Brilliant helps to diminish the appearance of acne scars by encouraging new collagen growth as well as reducing pore size, resulting in improved skin tone and texture. Brilliant, isn't it?
But Clear + Brilliant does have its limitations. People with so-called "ice pick" acne scars or extremely deep acne scars are not good candidates for the procedure.
Your Deserve the Gift of Beauty
Most people experience a warm tingling or prickling sensation with little discomfort.
Each Clear + Brilliant procedure takes around 30 minutes. The medical staff at LaserAway will apply a topical numbing agent 40 minutes prior to the procedure, and then remove it right before starting the session. Don't worry about having to sit in a doctor's office for hours on end: the actual laser session only take 10 minutes. It doesn't hurt, either. Most people experience a warm tingling or prickling sensation with little discomfort. Directly after the Clear + Brilliant laser treatment, a cooling face mask is placed on the treated area for 10 to 15 minutes to minimize any residual heat sensation.
The best part about LaserAway's acne scar removal procedure is that most people can resume their usual activities directly after treatment. Of course, there are exceptions. Some people do experience slight redness and swelling along with mild pain for up to 12 hours following treatment.  Any post-procedure discomfort, however, is so minimal that it can be easily managed with over-the-counter medications. To further speed along healing, you should avoid direct sun exposure for forty-eight hours following treatment and wear a SPF 30 or higher sunblock.
Expect Brilliant Results
LaserAway's Clear + Brilliant treatment is clinically proven to significantly reduce the appearance of acne scars and discoloration. After only three to five treatments, almost all patients claim their skin feels smoother and that their skin noticeably glows. Studies have shown Clear + Brilliant effectively fades acne scars, significantly reduces the size of pores, and refreshes skin tone and texture. After just one treatment, people report significant improvement in the appearance of acne scars; within a week, they notice smoother skin texture and more even skin tone.
Celebrate a New You with LaserAway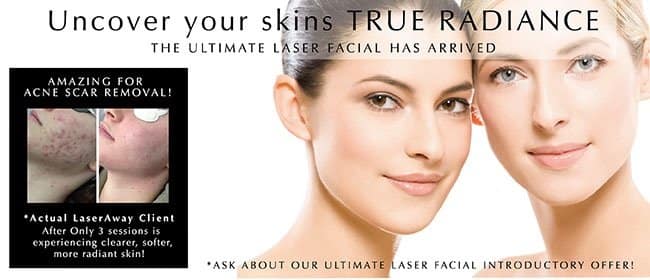 LaserAway is proud to offer the most medical spa service options of any national skincare provider. LaserAway hires only the most highly trained staff experienced and certified in administering laser and other dermatological procedures. What's more, LaserAway uses only innovative techniques and cutting-edge laser technology. LaserAway aims to make your medical spa experience comfortable, enjoyable and satisfying. Want to learn more about acne scar removal? Then schedule a free, no obligation consultation today by emailing LaserAway.net or calling the staff at LaserAway at (888) 965-2737.