In an exclusive interview reported by the Daily Express, Victoria Beckham reveals why she ditched her razor for laser hair removal to keep her legs fuzz free. She discovered this hot beauty secret through her friend, Desperate Housewives actress Eva Longoria. Once she gave it a try, Victoria says she hasn't looked back.
Victoria Beckham can't say enough about laser hair removal. She loves the fact that "you can go for touch-ups if you do see little hairs appearing, but I've been very lucky and haven't had to." If you're looking for a permanent way to banish unwanted hair, then take a cue from Victoria and Eva and give laser hair removal a try.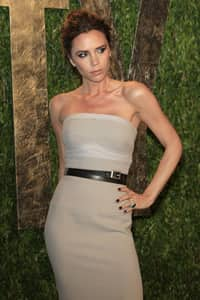 Contrary to popular belief, you don't necessarily have to have a fair complexion and dark hair for laser hair removal to be successful. With so many different lasers now on the market, even those with darker complexions can successfully and safely remove unwanted hair. Even people with white hair, who were once discouraged from getting laser hair removal, are now also able to safely and effectively do so by dying their hair a darker color before the treatment. Whatever your needs may be, there's a laser hair removal option for everyone.
So what can you expect once you decide to go through with a laser hair removal treatment?
First off, laser hair removal can be used anywhere on the body—save for the area near the eyes—including the upper lip, face, neck, chest, bikini line, under arms, legs and stomach. Laser hair removal works by targeting the pigment in the hair follicle, so your skin color and hair type are crucial when deciding which type of laser is best for you. There are many different lasers available, and each one is suitable for a particular skin type and hair color.
Second, you've got to be patient. Clients generally require between six and twelve sessions spaced a few weeks apart to completely remove hair, depending on the size of the area being treated and how coarse the hair is. If you want to be free of unwanted hair by summer, then winter is the perfect time to start treatment.
After a laser hair removal session, your skin may be irritated or red, but it usually calms down in a day or two. It's vital to use sunscreen for the first few weeks following the procedure, and you should also avoid using products that may irritate your skin, such as AHAs or harsh astringents. Make sure not to pluck or wax the area, either.
The best part of all? Laser hair removal won't break the bank. The cost of a series of laser hair removal sessions starts at around $250.
Are you looking to have Victoria Beckham's silky smooth skin? Then stop by your local LaserAway for a free, no obligation consultation. Since opening our West Hollywood location in 2006, we've used our data and technology to set the LaserAway standard for lasers and aesthetics. We're the top choice for celebrities, and we'd like to be the top choice for you too.