Laser Tattoo Removal Videos
---
Laser Tattoo Removal Treatment Progression
* RESULTS WILL VARY PERSON TO PERSON.
*Results and patient experience may vary.
CAN INK SINK YOUR LOOK? THERE'S NO WAY WHEN YOU'VE GOT LASERAWAY!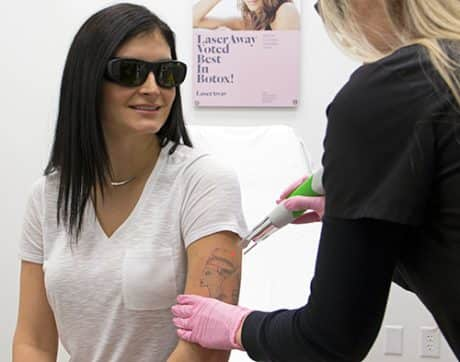 Treat yourself to a beauty boost with LaserAway. We remove tattoos easily and comfortably, thanks to our advanced technology.
Laser Tattoo Removal:

Zaps ink while leaving surrounding tissue unaffected
Leaves your skin looking uniform and natural
Is noninvasive and nonsurgical
Works with most skin tones
Produces dramatic results with multiple sessions
Requires little downtime
*Results and patient experience may vary.
Laser Tattoo Removal Is the Smart Choice
Like you, your tattoo is unique. Removal must be tailored to your particular needs. Green, yellow, and fluorescent inks can be stubborn, because their absorption spectrums often fall outside those of most lasers. And tattoo inks sometimes contain chemicals like iron oxide or titanium dioxide, which may make them tougher to break up.
How ink colors respond to Laser Tattoo Removal:

You're good candidate for tattoo removal if you have medium to fair skin and your tattoo contains dark — but not dense — ink at a superficial depth. Medium- and fair-skinned people react well because the laser can selectively target ink. If your tattoo happens to be on a spot with good circulation — arms, chest, buttocks — you should see pretty quick results. Areas with poor circulation – ankles, fingers — are a bit more of a challenge.
Laser tattoo removal is still possible if your skin's darker. Your medical professional will use lasers with specific wavelengths to reduce the chance of any complications.
Though rare, common side effects include infection at the tattoo removal site, incomplete pigment removal, hypopigmentation, hyperpigmentation, and scarring. Darker-skinned patients face a slightly higher risk of post-procedural keloid scarring.
*Results and patient experience may vary.
Your Laser Tattoo Removal Experience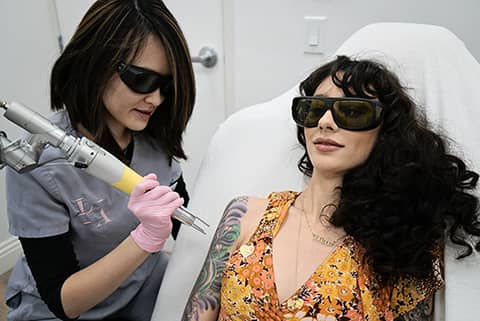 Before your laser tattoo removal session, your medical professional will determine the type of laser to use and how many treatments you'll need. The number depends on your tattoo's age, size, type, and pigment depth. Your medical professional will also test the laser on your skin to see how it reacts.
You may see slight bleeding, redness, swelling, and blistering for several hours or days following treatment. Over the weeks to follow you may see flaking, peeling, or scabbing of the treated area. Handle the treatment site gently. While the site is healing, you should avoid sun exposure and public swimming pools. Once the skin has completely healed you can undergo another treatment.
*Results and patient experience may vary.
Before and Afters
*Results and patient experience may vary.
Expert Lasering Away of Tattoos with LaserAway
At LaserAway, our medical professionals use laser energy to break up and disperse tattoo pigment safely. Laser tattoo removal works by targeting pigment colors in the skin's dermis, which lies between your outer layer of skin (epidermis) and the tissue beneath. The tattoo pigments absorb the laser's beam and fragment. Your body then absorbs these fragments and eliminates them.
The most common type of laser used in tattoo removal, the Q-switch produces light pulses of extremely high peak power. Several types of Q-switch lasers exist, and each one targets a different color spectrum at different wavelengths. Because Q-switch lasers are so precise and intense, tattoo pigments fragment instantly, and the surrounding tissue is spared.
Though you may see results immediately, more likely you'll have to have several treatments before a difference shows. The number of treatments depends on the amount and type of ink used and how deeply it sits. Also, it takes three to six weeks between treatments for your body to absorb the pigment residue.
*Results and patient experience may vary.
Blast Your Tat at LaserAway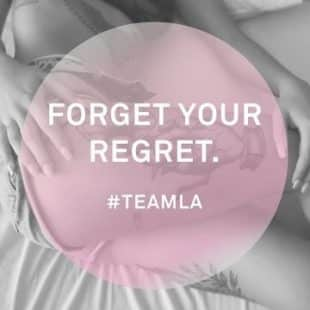 At LaserAway, we offer the most aesthetic service options of any national skincare provider. Our highly trained staff is experienced and certified in laser and other dermatological procedures. Our techniques are innovative. Our technology is cutting-edge. And we work to make your experience comfortable, enjoyable, and satisfying.
You've seen for yourself that laser removal is the best solution for that tattoo that's no longer in harmony with your look. Schedule your free, no-obligation laser tattoo removal consultation at LaserAway now by emailing LaserAway.com or calling us at (888) 965-2737.
*Results and patient experience may vary.