There's a reason why Hollywood celebrities choose LaserAway for all their laser hair removal needs. We're perfectionists, and we want our clients to have the best laser hair removal experience possible. That's why we use only the most cutting-edge technology. Our laser hair removal procedure is non-invasive and offers dramatic and permanent results after only a few treatments. What's more, it won't slow down your busy lifestyle with unpleasant side effects.
How do we work such magic? By using the best laser hair removal devices on the market. Cynosure's Apogee Elite is one such device. This laser technology is one of the safest and most effective laser hair removal machines available.
Unlike rival devices, the Apogee Elite contains not one, but two laser systems. And what's more, the Apogee Elite combines a state-of-the-art device that uses cool air to further reduce any discomfort. There's nothing the Apogee Elite can't do. By providing two different wavelengths, the Apogee Elite laser can be used to treat even the most stubborn cases, including clients with darker skin and coarse hair. And it does so without causing undue pain or unpleasant skin changes and scarring.
Cynosure's Apogee Elite laser ensures you'll stay comfortable during your laser hair removal session. It does so through its patented SmartCool system. This system uses a "double cooling" technique which employs the body's natural cooling process in conjunction with a specifically engineered external cooling system. The SmartCool system works together with the laser to minimize client discomfort during treatment.
THE SCIENCE BEHIND CYNOSURE'S APOGEE ELITE
Laser hair removal seems like magic, but the science behind it is simple. All laser hair removal technology uses laser light pulses that selectively destroy hair follicles by targeting the melanin in them. The follicle's pigment absorbs the laser's light pulse, damaging the follicle enough to significantly slow down hair regrowth.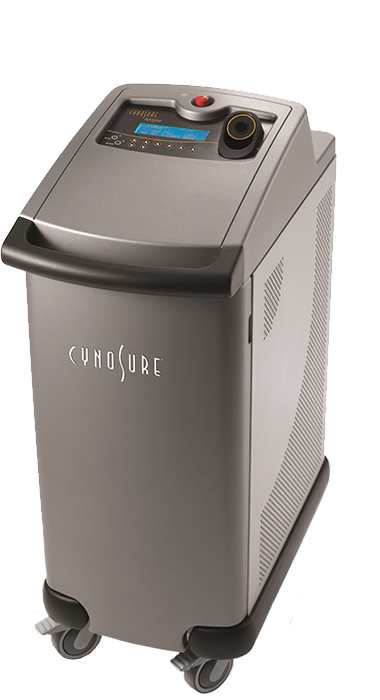 Cynosure Apogee Elite laserCynosure's Apogee Elite contains two laser systems – a 755 nm Alexandrite laser and a high-powered 1064 nm Nd:YAG laser – which allows it to effectively target different types and colors of hair and skin. The classic 755 nm wavelength has high melanin absorption characteristics and proven long-term results for hair reduction. Indeed, it can permanently reduce hair by an average of 79% after just three treatments. Combined with the Nd:YAG laser, it allows the Apogee Elite to safely and effectively treat clients with darker skin. It's especially good for eradicating excessive hair growth in the facial, armpit, and bikini regions. With two lasers in one system, Cynosure's Apogee Elite safely and effectively performs multiple applications in a fast, efficient manner.
To maximize client comfort the Apogee Elite uses the patented, award-winning SmartCool technology, which minimizes side effects during laser treatment by protecting and cooling the skin before, during, and after treatment. It does so by producing a continuous flow of chilled air. The SmartCool protects the tissue and skin from possible thermal damage, allowing for maximum comfort and quick client recovery time.
Cynosure's Apogee Elite laser targets only hair follicles that are currently active or growing. Subsequent treatments may be required to eliminate the previously exhausted or resting follicles as they resume production.
IS CYNOSURE'S APOGEE ELITE RIGHT FOR YOU?
Yes! Our advanced laser hair removal technologies work on nearly all skin types and tones. The Apogee Elite's dual-wavelength system allows it to safely and effectively treat even the darkest skin tones. And if you have a combination of dark skin and hair, don't despair the Apogee Elite's Nd:YAG laser can eliminate unwanted hair on clients with both dark skin and hair. This is because the Nd:YAG laser has a longer wavelength, and is highly sensitive to all colors and melanin, meaning it can more precisely penetrate hair follicles without damaging surrounding tissue. The Apogee Elite's ability to treat a wide range of skin types and hair colors makes it the gold standard for laser hair removal.
What's more, the Apogee Elite's patented SmartCool technology ensures you'll be comfortable during your laser hair removal session. And you'll likely be thrilled with the results too: the Apogee Elite is so effective that it permanently reduces hair by an average of 79% after only three treatments. Even better, you can resume your regular activities immediately following treatment.
*Results and patient experience may vary.